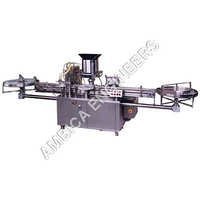 Automatic Eight Head Vial Filling Machines
Product Description
Automatic Eight Head Vial Filling and Rubber Stoppering Machine
Product Description
Product Description
Ambica Engineers Introduces Newly Highest Grade Pharmaceutical Machine. Designing As Per GMP Standard and very latest Concept with A.C. Frequency drive for injectable Liquid in Sterile Operation Compact Machine Elegant and Functionally Superior, that Found wide Acceptance in the Pharmaceutical, Chemical and Allied Industries.
Ambica Engineers compact Automatic Liquid Vial Filling and Stoppering Machine in pleasing Matte finished Stainless Steel. The basic unit consists of Turntable. S.S. Slat Conveyor Belt, Unique Co. Eccentric simultaneous Gassing with Filling and Post- Gassing S.S.316 Nozzles highly efficient and precision built S.S. 316 Syringes. non-toxic Synthetic Rubber Tubings. easy reach compact panel and with No Container. / No Stopper No Filling System.
The minimum distance between filling and Stoppering units reduces the risk of contamination. The machines are designed for operation in a sterile area and for use under laminar flow protection. The un-scrambler itself has been redesigned to eliminate dead ends and difficult to clean spots.
Syringe Volume Range : 01 ML To 05 ML
02 ML To 10 ML
10 ML To 52 ML
Technical Specification :-
| | |
| --- | --- |
| Description | Model LVFS 200R |
| Heads | 8 Heads |
| Output Per Hour | 15000 Vials(Depending on the Nature of the Liquid and its Fill size or Volume.) |
| Power Characteristics | 440 V 3 Phase 50 HZ 4 Wire System with AC Frequency Drives |
| Input(Container Dia. And Height) | 24 Mm To 50 MM 0 / 75 MM Max. |
| Rubber Stopper | 13 / 20 MM Dry or Wet |
| Fill Size | 02 ML To 50 ML ( with help of extra change part) |
| Filling Accuracy | ± 1 % On Single Dose |
| Net Weight | 800 Kgs. Max. |
| T1 | 600 MM (Separate) |
| T2 | 600 MM (Separate) |
| Length (L) | 3700mm (including T1 & T2) |
| Width(W) | 900 mm |
| Height (H) | 850 mm |
| Height (H1) | 1400mm |
Salient Features:
Ø All exposed parts are of s.s.304 Malt finished to avoid any reflection for achieving the most concentration and efficiency of the operator.
Ø Co-Eccentric Nozzles allows very quick and precise setting and making unit Compact and manageable.
Ø Crafted S.S. Holders, lapped Glass as S.S. Syringes and Piston and precision built valve system for achieving very high accuracy in fill size and drip proof and performance. Precise setting and accuracy can be easily adjusted on the machine itself.
Ø No Vial No Stoppers - No Filling System. Easy reach compact panel Provides ease in operation.
Ø Minimum Change over time. from one size of container or fill size to another.
Ø Each important individual part required for autoclaving / sterilization can be removed easily. No need to shift the whole machine every now and then.
Ø Machine height can be adjusted to match with other machine so as to synchronize with each other efficiency.
Ø Can run dry and wet rubber stoppers and supplied with Liquid collection tray.
Suitable for Food and Beverages. Chemical, Pharmaceuticals and Cosmetic Application and Other Allied Companies / Industries.
Contact Us
16/4, Kailash Industrial Estate, Part-IV, Opp. Sugyan Vidhya Vihar School, Virat Nagar, Odhav, Ahmedabad, Gujarat, 382415, India
Phone :+918068341642