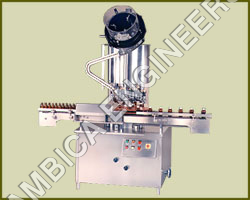 Fully Automatic Capping Machine
Product Description
Fully Automatic Capping Machine
WE are manufacturing of Fully Automatic Capping Machine.These Fully Automatic Capping Machine are offer as per client specification.
Product Description

AUTOMATIC MULTI HEAD ROPP CAP SEALING MACHINE:




Salient Features:-



Single motor synchronizes conveyor, star wheel & platform turret.


Adjustable height of conveyor belt.


Sealing pressure can be varied to suit different gauges and size of caps.


Specially designed hopper is provided to increase storage capacity of bowl.


Low noise level power consumption.


No container No cap arrangement.


cGMP MODEL
Model No.
AECS-100
AECS-150
AECS-200
Output/ hrs


Upto 6000 bottles


Up To 9000 bottles
Up to 12000 bottles
Motor
1HP/440 Volts/50 Hz
1.5 HP/440V/50 Hz.
1.5 HP/440 Volts/50 Hz.
ROPP Cap Diameter
22 mm to 56 mm with the help of change parts.
Container Size:
A] 22 mm to 100 mm Diameter.B] 38 mm to 210 mm (H) Option for bottle height available.
Height Of Conveyor.
750 mm to 840 mm.